~ mEdiC gurL ~
Dec 20, 2008 @ 2:18 AM
hmmm... being  someone who has to take care of nearly 80 people is not a piece of cake........
i ended up being the nurse or u could say "
medic gurl
" during a camp i attended last year... it was my last camp at school so i wanted it 2 be memorable... and it really was...
i had the experience of being a nurse.... it was quite fun treating sick people... even though at last i ended up in coma!!...(i slept the whole day when the camp ended) huhuhu.... demo... the feeling of treating people is quite yasashi... i personally felt very relieved when " my patients" got better...hmmm.. there were only a few type of sickness during the camp...athsma.. gastric.. fever... low blood pressure... thank goodness no one passed out during the camp... or i dunno what 2 do back then.... 
there were  a few serious cases... some of them... as i remembered... were.... there was this boy that got bumps in his feet.. it was hard for him to walk... i really felt sorry 4 him as the bumps didnt healed....atlast... that boy was sent back home... and there was this gurl... she got asthma...fortunately it was not that serious n she stayed till end of the camp...
besides that.
.
momitchi's sis n one of my best friend ieka
..
suffered from gastric a few times.. and luckily...there were enough medicine for them...other than that...an unfortunate friend of mine had  internal injury in her knee... i did my best to help her... demo...it got serious and then her mom came to pick her up... i was very grateful that her injury recovered and she came back to school...
ayumi
...
hontou ni gomen i was not capable to help u that much back then... thanx a lot 4 trusting me... i really  hope that our friendship last till the end of time... amin..
overall... the camp was fun n memorable...even though it was a bit tiring... huhuhu.. demo..  i am really thankful that i was there to help them...it was really a great experience... now... i still kept the comments that i got during the camp....some of them were from my patients n the rest were from my friends...  i think... hihihi.... i was really touched when one of my friend's younger sis was inspired by how i treated my patients n wanted 2 be like me... i really hope that she will have success in her life.. amin...

as the end to this post... i'm giving my greatest gratitude for all my friends and the ones who gave me support and helped me a lot  during the camp..
. 

fude.. anep... momitchi... azz.. ieka... mai... ayumi...afiq
...
hontou ni arigatou minna !!!  (^_^)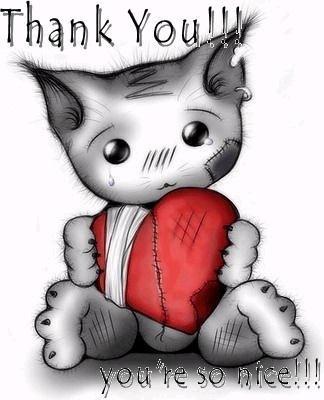 MyNiceSpace.com